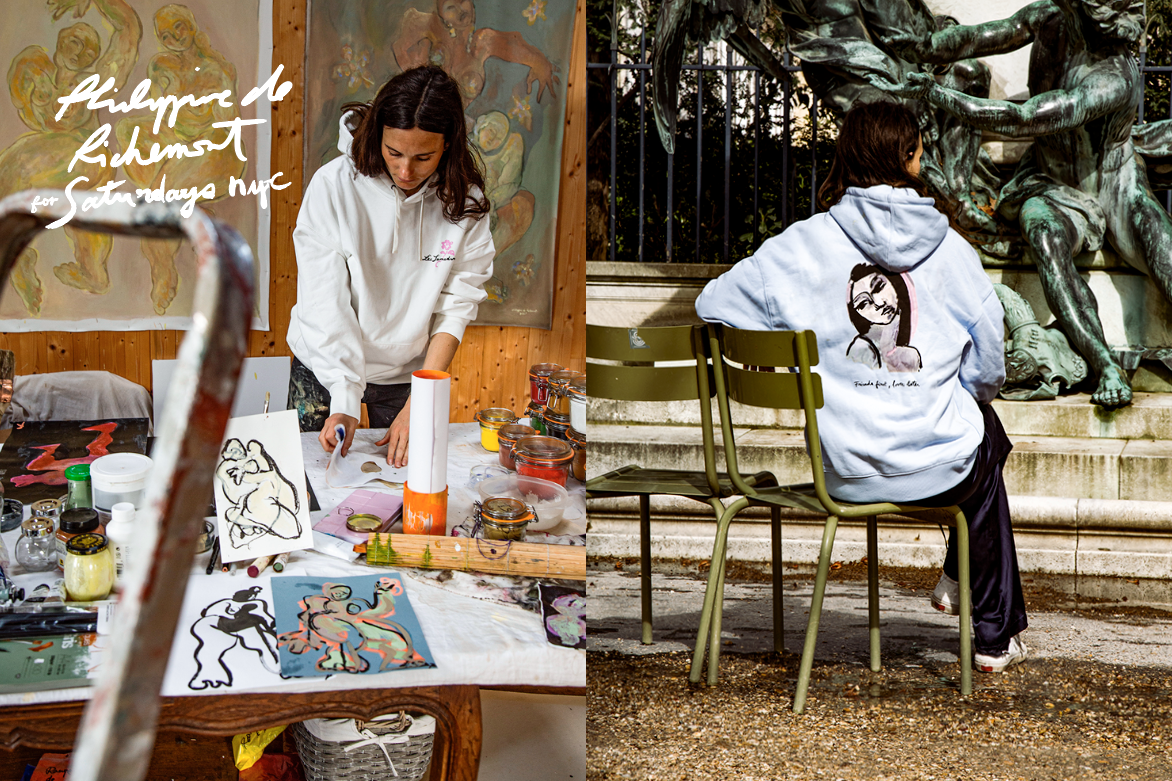 Apr 16 '21
Q&A with Philippine de Richemont
COLLABORATORS
We're excited to announce the launch of our collaboration with artist Philippine de Richemont. Inspired by his wife's work, our co-founder Colin Tunstall asked Philippine to create a few special pieces for the Spring season, and together, we're launching a small 7-piece "Les Samedis" capsule collection, consisting of sweats, tees, swim shorts and a camp-collared shirt—each designed and photographed at her studio in France. We sat down to talk inspiration, NYC vs France, and the ideal Saturday itinerary.
Images by Colin Tunstall
Saturdays: What inspires you?
Philippine de Richemont: Lots of things! From the shape of clouds to shades of colours of oil paint in art stores to masterpieces at the MET or the Louvre. Traveling with my parents at a young age and being exposed to the richness of museums opened my eyes to the multitude of ways people depict the world—from ancient traditions to modernism. It taught me to appreciate different mediums as well, from tapestry to silversmith craftsmanship. The littlest of things will inspire me. Living in a city is inspiring, building details, people's way of dressing. I've found inspiration living in the countryside, too. Nature is so elaborate and diverse. Video artists have inspired me. Music as well, allowing my mind to wander and compose. I think movement in general motivates my creativity.

SNYC: Has living in NYC / USA changed your work?
PDR: I don't know if it has changed my work in the sense of switching directions. But it probably has influenced it, mainly through my exposure to people, their ideas, art and opinions. Observing how things are done differently teaches you to sometimes take another look at your work, not to change it necessarily, but it invites introspection.
SNYC: Do you have a favorite piece?
PDR: I'm proud of and love a lot of my pieces. The love affair sometimes lasts a long time, and in some cases, I'll have a hard time parting with certain pieces. I'll hang them in my studio on bad days to remind me that I can create something beautiful and to inspire and stimulate my creativity. If someone wants to acquire a favorite piece of mine, it's another battle in my heart. I'll try to take lots of photos of the piece and ask the buyer to send me photos of it framed and all set up in the new environment. It's like my child went away and I want news from him to be sure they're loved as much as I loved them.

SNYC: Any new mediums you'd like to take up?
PDR: I've recently started using oil paint. I've used oil sticks before, but I really like the texture of oil paint as well. I've been experimenting with getting the right consistency, color, and drying time. It's beautiful. I've also been painting on canvas more and testing different painting mediums on that surface. I like the unexpected especially within colors and seeing how they react to each other. I'm also thinking of exploring 3D work too. I studied sculptures a long time ago and want to try my hands at it again. I'm very curious what will come out of it. I try not to put too much pressure on experimentation, and that's usually when I make the most interesting and pleasing creations.
SNYC: Fast forward 10 years. Do you see your work looking very similar or very different?
PDR: Good question and the answer is I don't know. I hope I'll still be experimenting and painting every day. I wish my intellect continues to be stimulated by the world around me. I'm planning on my art career to have grown in maturity and that I've achieved goals I've set for myself.

SNYC: What do you like to do on Saturdays?
PDR: Pre-kid, I'd go to a lot of museums, usually solo, and with a notepad to sketch. I still do it, but a little less often. I like to meet friends, walk around, and discover new places. If I'm in France, I may be in Paris, seeing friends, an exhibition, spending the weekend somewhere or exploring the country driving around. I like the occasional, what I call the "Forest Gump walk," having no plans, going nowhere specifically, and just allowing for the unexpected to surprise me.■
Shop the full capsule collection here